(photo by allfordmustangs.com)
The Issue of Debt: Part 6, Car Loans
After I graduated from college, and before I was to report to Ft. Eustis, for my first bit of Army training, I bought my first car; a beautiful white Ford Mustang. I figured with a guaranteed three year employment, I could swing a three year loan. I put as much as I could afford up front for a down payment and financed the rest. The prime rate was 9.5% and I don't want to guess what my car was financed at. Either way, because I financed it, I paid more for the car than it was worth.
Because my first Army assignment after training was in South Korea, my car sat for a year, rarely used at the side of my parents' home. When I returned from South Korea, I sold the Mustang and bought a Corvette—a much more useful car for a 2nd Lieutenant.  I traded in the Mustang, still owing 18 months of payments, financed the Corvette, and made my way back across country to New Jersey. Where, three years later it was paid in full.

(photo from PaintRef.com)
By saving the car payment into a fund for the next car, I was able to pay cash for the beautiful 1985 Cadillac DeVille. I'm sure it had some fancy name for the color. It looked pink to me.  It conked out while pulling into the hospital emergency room driveway and we couldn't drive our first born home in it. But, after it was repaired, it had a back seat and could carry a growing family. And, it was paid for—with no interest.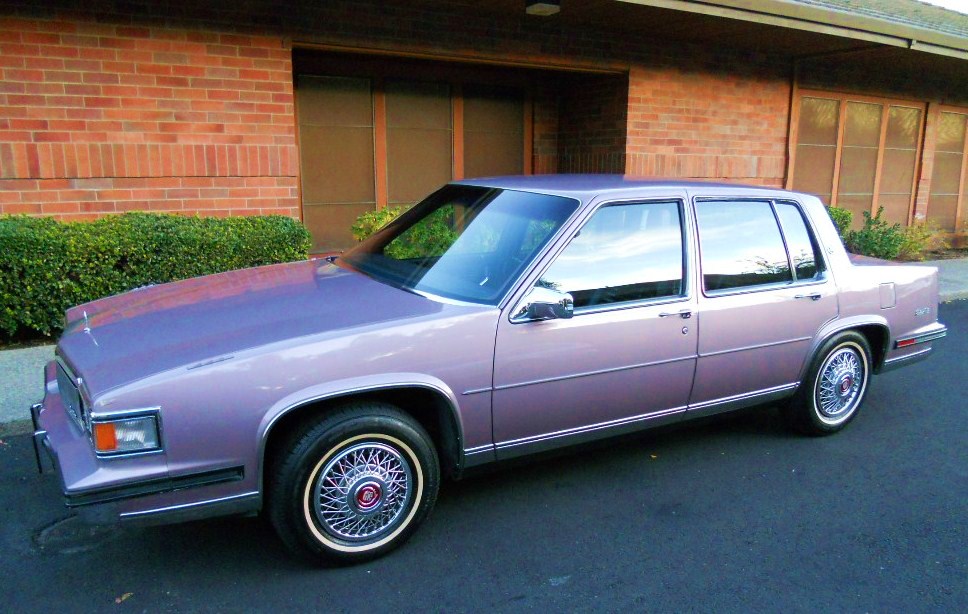 (photo by larrycamuso.com)
For 25 years, I continued to make car payments to myself and have always been in a position to pay cash for cars. Additionally, and maybe more importantly, I continued saving to my MatterFund, enabling me to pay for repairs and maintenance without the need to borrow.
Other than a house—for which almost everyone finances and a college education if you go that route, your car will be the biggest purchase. Safeauto estimates most Americans will own six cars in their lifetime. I venture to say many of you will have owned double that, if not more. I've already owned seven (not counting my pre-marriage four motorcycles); Ford Mustang (18 months), Chevrolet Corvette (6 years), Cadillac DeVille (5 years), BMW 520e (3 years), Lexus LS400 (12 years), BMW 535xi (4 years and counting), and our monster Chevrolet Conversion Van (10 years and counting). Robin has owned her Ford Explorer (8 years), another Ford Explorer (8 years), Volvo 960 (6 years), and her Volkswagen Eos (4 years and counting).
Cars used for driving are always a depreciating asset. I recommend you don't finance a depreciating asset. My strategy has been to purchase slightly used, usually about three years  old, and keep the car for five to ten or more. After my first two cars, I have always been in a position to pay cash. Whether I do or not is another decision left for another blog.
The least expensive car you can buy is the one you already own. Larry Burkett once said, "You should drive a car until it turns to dust, then sweep the dust together and drive it some more."
That may be extreme, but to borrow and pay interest to buy a depreciating asset, and do it over and over again, is also extreme.
Enjoy,
Dan
Previous Debt Articles
The Issue of Debt: Part 1, The Role of an Advisor
The Issue of Debt: Part 2, 5 Types of Debt Defined
The Issue of Debt: Part 3, How We Avoid Credit Card Debt
The Issue of Debt: Part 4, What to do When Family has Debt
The Issue of Debt: Part 5, Mortgages